The Color Run Tales
EN:
In a world where all people seem to be actors in detergent comercials and all women wear tutus over trouser..
RO:
Intr-o lume in care toti oamenii par a juca in reclame pentru detergenti si femeile poarta tutu peste pantaloni...
.. temporary tattoos are no longer meant for children and getting stained is actually cool.
.. tatuajele temporare nu mai tin de anii copilariei, iar petele devin o mandrie.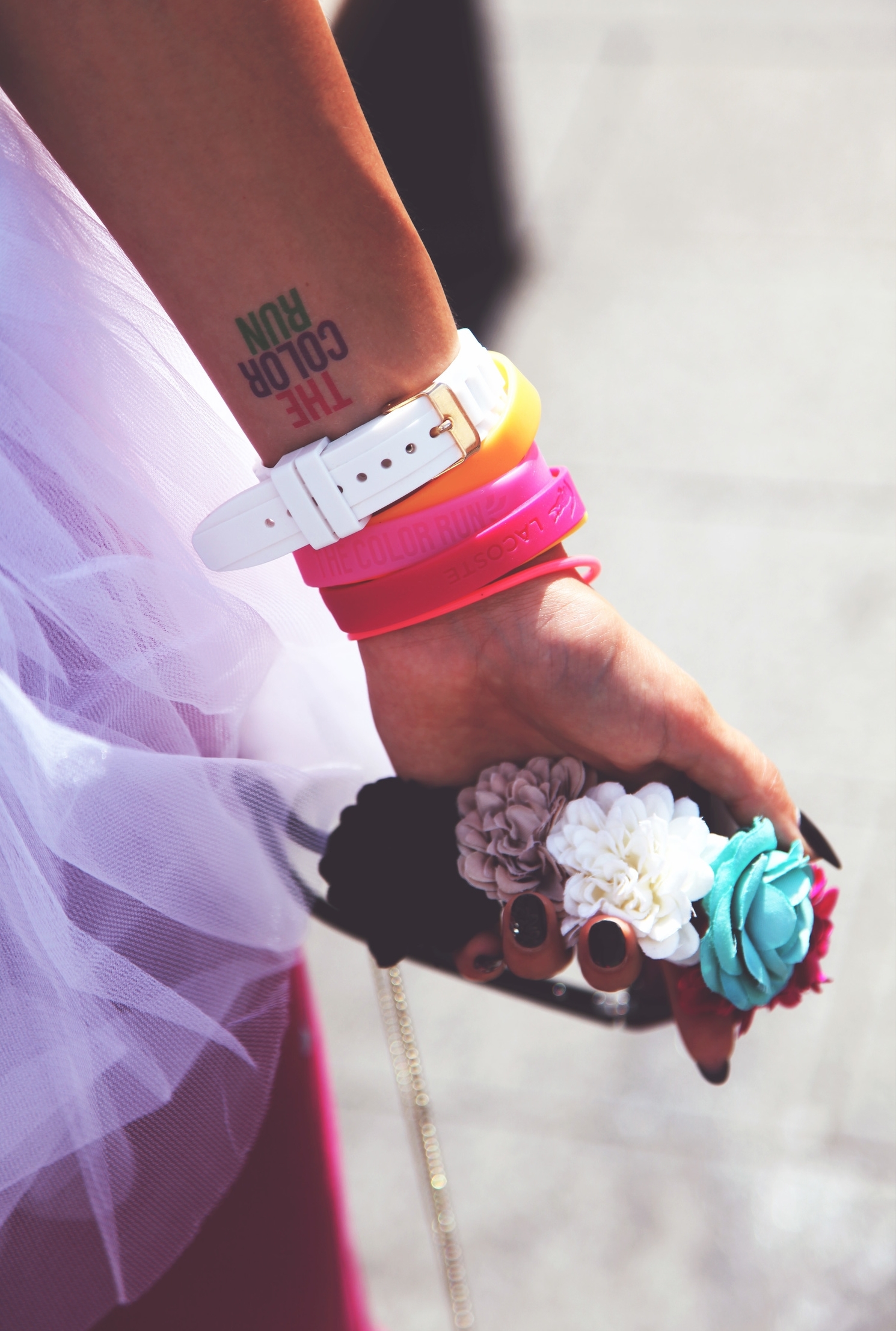 I showed up with my lover, unicorn and friends in the Unirii square. We got in line and waited for the start. Andrei decided he was going to "win" the race ( no matter there were at least 200 people ahead of us already ), and I decided I was going to keep up..
Venisem cu iubitul, unicorun si prietenii in pta. Unirii. La linia de start ne insiruiam ambitiosi. Andrei era hotarat sa "castige" cursa ( nu conta ca pornisera deja 2-3 sute de oameni inaintea noastra ), iar eu eram hotarata sa tin pasul cu el..
We had no idea how the track looked like, but we were having loads of fun. My lungs were crying out for pity by the half of the way. So was my voice: "Waaaaitttt for meeee, pleeeasee".
He took my hand and we went on. Taking off like two heroes in the sunset, overrunning 300 people and winning the prize!
.. at least that's what Andrei was hoping. The truth is, I took a few seconds after every kilometer to take my breath. I would have slowed down much sooner, if these two brats wouldn't have been so damned quick. My other friends I already lost a few hundred meters behind.
After the purple color explosion, I was totally defeated. He lifted me up and I busted out laughing again, this was crazy!
Am pornit in hohote de ras, fara nici cea mai vaga idee care ar fi ruta. La jumatatea traseului, plamanii imi plangeau de mila. la fel si vorbele: "Asteaaptaa-maaa te rooog!".
M-a luat de mana si am mers mai departe. Ca doi eroi in apus, am intrecut cei 300 de oameni, si am luat premiul!
.. sau cel putin asa-si imagina Andrei sfarsitul. Practic, ma opream cateva secunde dupa fiecare kilometru ca sa-mi trag rasuflarea. As fi incetinit de mult, daca netrebnicii astia doi nu ar fi fost asa de rapizi. Pe ceilalti ii pierdusem cu cateva sute de metrii in urma.
Dupa valul de culoare mov, eram terminata. M-a luat pe sus si m-a lovit din nou rasul. Doamne, ce zi nebuna!
The end moment was the coolest.
Everybody was happy for finishing the race. Breathing heavily, we all threw our color dust in the air together.
Sitting on his shoulders, I had the most amazing view over the colorful clouds.
What happened was art.
People of all ages, united in a game of color, without differences, problems or constrains. Another kind of freedom.
Momentul de sfarsit a fost cel mai tare.
Toti participantii cursei, gafaind fericiti, cu pungutele in mana, au eliberat pudra colorata deodata in aer. -
Urcata pe umerii lui, am reusit sa privesc norii de culoare, in toate splendoarea.
Ce a iesit a fost o opera de arta.
O mare de oameni de toate varstele colorandu-se reciproc, fara diferente, fara probleme si fara obligatii. Un alt fel de libertate.