Fall(ing) in Berlin
EN:
6pm, Berlin - Schönefeld.
I have competition!
A lady is coming towards me, takeing a step forward and one to the left .. now she's practically in front of me. With her back to me, but facing to the two sliding doors, that everyone here is waiting for.
"Who does she think she is?" I say to myself, and with a look as eager as hers, I take two more steps.
I exceeded her and conquered the best place in the airport once again.
The screen announcing the landed flights is to my left. It warns me that he's here, somewhere close, wandering behind those still doors.
The lady did not bother to fight me any longer, making me grin maliciously. "Perfect!"
I wanted to be the first person he sees when he arrives. And I shamelessly managed to do just that .. He wasn't the only one who was about to meet my gaze the first thing when in Berlin, though. I was pretty much the first person that all the other passengers had to face, too. I thought it was funny, although I knew that everyone besides Andrei will look right through me, to their families, friends or to the taxi station.
RO:
Ora 16:00, Berlin - Schönefeld.
Am concurenta!
O doamna se apropie de mine, face un pas inainte si unul la stanga.. Acum practic, sta in fata mea. Cu spatele la mine, dar cu privirea inainte catre cele doua usi glisante, pe care le asteptam toti sa se deschida.
"Cine se crede?" ma gandesc, si cu o privire la fel de nerabdatoare ca a ei, mai fac doi pasi.
Am intrecut-o si am pus din nou stapanire pe cel mai bun loc din aeroport.
Panoul care anunta zborurile aterizate e in stanga mea. Ma avertizeaza ca e aici, aproape, undeva dupa usile alea de neclintit.
Doamna nu s-a mai obosit sa inainteze si eu scap un ranjet neobrazat. "Perfect!"
Voiam sa fiu prima persoana pe care o vede cand ajunge. Iar cu putina nerusinare am reusit sa fac exact asta.. Am fost prima pe care au vazut-o si ceilalti calatori abia ajunsi in Berlin, ma distra gandul, desi stiam ca toti inafara de Andrei se vor uita prin mine, catre familii, prieteni sau catre statia de taxi.
After half an hour of defending my ideal spot, the doors opened again. The 31st time, it seems, was lucky. It's him!
What happened the next 10 minutes in Schönefeld you can only imagine. His bags fell to the floor and in a breathless rush - I'm in the air. In the midst of the crowd, I was completely hidden between two arms and two lips so loving, that it never crossed my mind how embarrassed the poor lady standing next to me might have felt, just one step away..
From then on there was no letting go.
We were discovering the city together, hand in hand.
He always surprised me with his observations about everything around us. Not because he saw something I did not, rather, because he saw everything exactly the same as I did, in my first two weeks of September, here, in Berlin.
Dupa jumatate de ora de aparat pozitia ideala, s-au deschis din nou usiile. A 31-a oara, se pare, aveam noroc. El e!
Cum au decurs urmatoarele 10 minute la Schönefeld va puteti imagina si voi. Gentile au cazut la podea iar eu am ajuns in aer. In mijlocul multimii, eram ascunsa intre doua brate si doua buze atat de iubitoare, incat nu ma mai interesa ca o stanjeneam pe biata doamna, la doar un pas departare..
De atunci in colo nu ne-am mai dat drumul o saptamana intreaga.
Colindam orasul impreuna, tinandu-ne de mana.
Ma surprindea mereu cu observatiile lui legate de tot ce ne inconjura. Nu pentru ca vazuse ceva ce eu nu, ci tocmai din contra, pentru ca ii sareau in ochi exact aceleasi lucruri pe care le remarcasem si eu in primele doua saptamani de septembrie.
First we went to my apartment in the eastern part of Berlin, the former DDR. He left his luggage and met Xenia, my dear Russian room mate. Not before we stopped at a sweet shop with Truffles and chocolate covered fruits, where we bought our favorite flavors to keep us company in the long nights still awaiting.
In the mornings, we used to make breakfast together, or go to town where we stopped at random bistros. We woke up early, no matter how late we fell asleep. "There's just too much to see!" I kept telling him.
From the time I had arrived in Berlin, on the 29th August, 'til the end of September, I couldn't sleep more than a few hours a night. I couldn't! I felt like I was wasting precious time. Let alone now that Andrei joined the adventure!
And so it was - I had a whole month, but I still had so much left to visit and experience.
What I managed to capture though, was enough to make me want to go back.
Am mers intai la apartamentul meu din partea de est a Berlinului, fosta parte comunista. Si-a lasat bagajele si a cunoscut-o pe draga de Xenia, colega mea rusoaica. Ne-am oprit la un magazin de truffle si fructe invelite in ciocolata inainte, unde ne-am asigurat gustariile pentru seriile lungi care urmau sa vina.
Dimineata ne gospodaream noi si faceam micul de jun impreuna, sau mergeam in oras unde ne opream la cate un bistro la intamplare. Ne trezeam devreme, oricat de tarziu ne culcam. "Avem prea multe de vazut!" ii spuneam mereu.
De cand ajunsesem in Berlin, in 29 August, pana la finalul lui Septembrie, nu am putut dormi mai mult de cateva ore pe noapte. Nu puteam! Simteam ca imi irosesc timpul. Daramite acum ca s-a alaturat si Andrei aventurii!
Si asa a fost - o luna intreaga, dar tot nu am apucat sa vad tot ce mi-as fi dorit.
Dar ce am reusit sa surprind insa, a fost destul cat sa ma faca sa vreau sa ma intorc.
In the pictures above we were visiting the Jewish Memorial. A labyrinth made to honor all the ones who past away during the Holocaust. I was utterly concerned about the city's history and the way it affects the population to this very moment.
I've talked in my previous posts about the people in this city, and how they do not go unnoticed. I concluded that Berliners are some special people. Not necessarily the ones born here, but those who chose to move into the heart of protestant, rebels, artists and refugees.
I also mentioned that I want to understand the phenomenon that differentiates them from the rest, so I went with Andrei on a tour of the city.
Wait, wait! It wasn't a typical touristic stroll, we knew it wouldn't satisfy us. So we went on an alternative route with a bearded guide, Rich. And what a fun guy he was! He came from Australia, moved to London and ended up where all hipsters like him do, Berlin.
Rich took us to see urban art, explained protests born in the suburbs, took us from one neighborhood to another, we learned the unwritten law of graffiti artists, he told us the streets myths and stories related to the Berlin Wall ascension.
Check it out:
In pozele de mai sus vizitasem Memorialul evreiilor ucisi in timpul Holocaustului. M-a preocupat mult istoria orasului si felul in care faptele desavarsite in el i-a afectat populatia pana in ziua de astazi.
V-am povestit in postarile precedente despre locuitori, si cum acestia nu trec neobservati. Am conclus ca Berlinezii sunt niste oameni aparte. Nu ma refer neaparat la cei nascuti aici, ci si la cei ce au ales sa se mute in inima protestantilor, rebelilor, artistilor si refugiatilor.
V-am mai spus si ca vreau sa ajung sa inteleg mai bine fenomenul care-i diferentiaza pe acestia, asa ca am mers cu Andrei la un tur al orasului.
Stai, stai! N-a fost un tur tipic turistic, stiam ca de acolo nu vom pleca satisfacuti. Ci am mers pe un traseu alternativ, cu un ghid barbos, Rich. E o figura de om, venit din Australia, mutat in Londra si ajuns unde ajung toti hipsterii ca el, Berlin.
Rich ne-a dus sa vedem arta urbana, ne-a explicat protestele nascute in suburbii, ne-a dus din cartier in altul, am aflat legea nescrisa a graffitiului, ne-a relatat mituri straziilor cat si cele legate de inaltarea zidului Berlinului.
Uite o parte: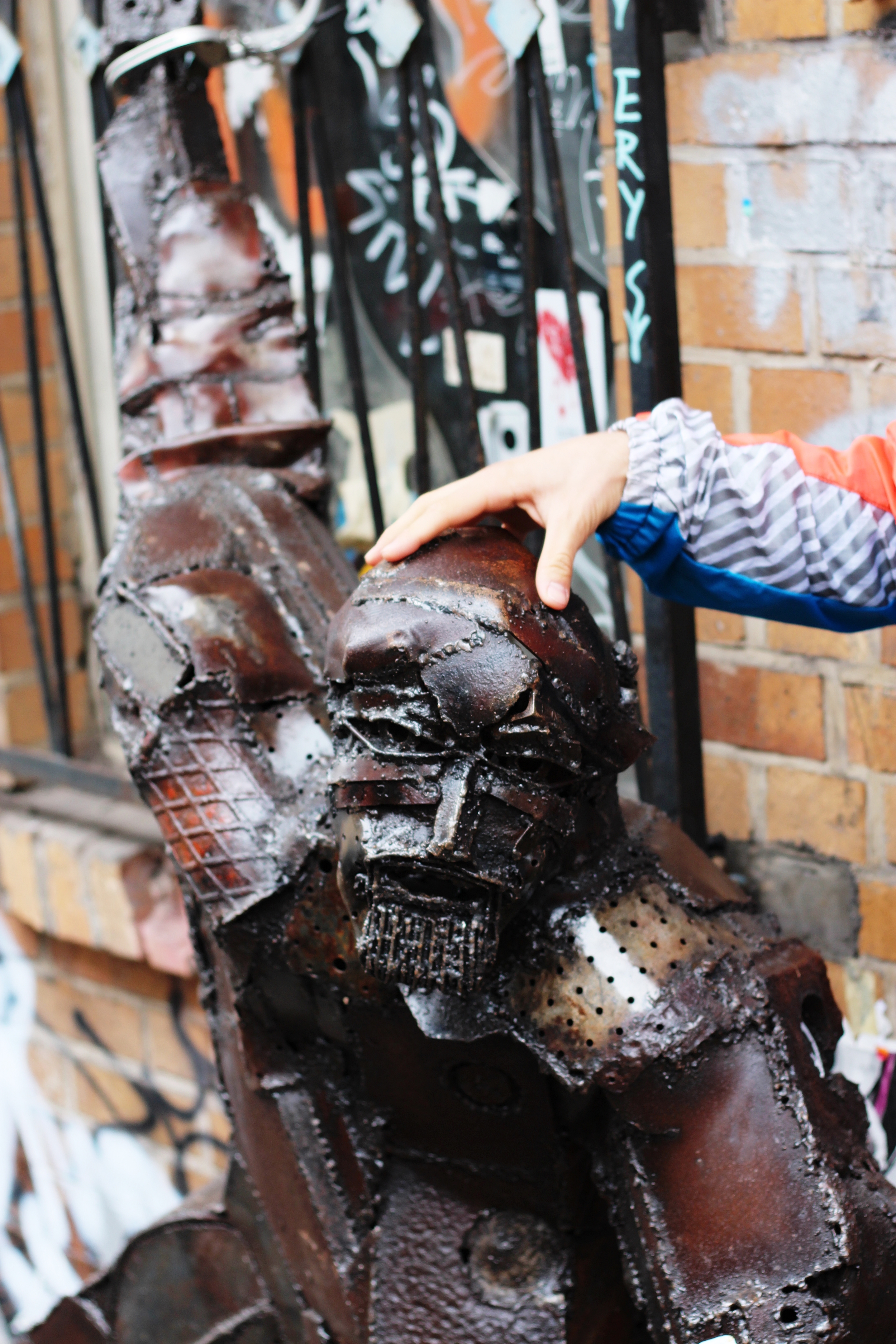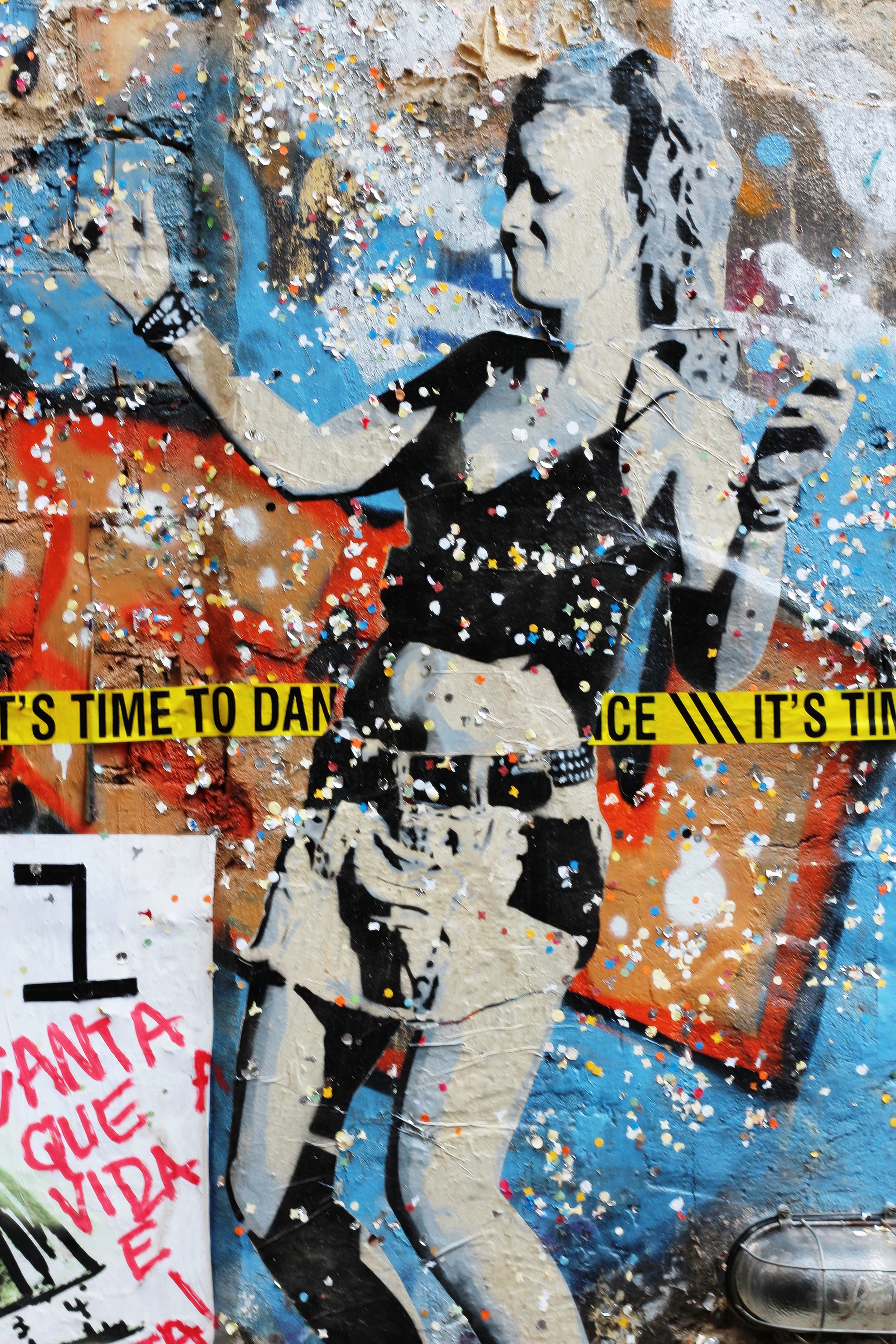 Don't get me wrong, I'm no big fan of graffiti, & I do not promote vandalism, but .. - and there is a "but"! - I must admit that this city is seething with talent. And their art is everywhere, literally.
Their aim is to reclaim the streets. To bring the city back to the people. Who asked for advertisements to be placed everywhere? The people? No, no. - They have other stories to display.
If you arrive in Berlin, I would suggest that you don't miss the opportunity to make such a tour. It's really worth it. I also recommend you go for some clubbing, I don't know if you knew, but Berlin is pretty much the maternity room of the techno scene.
We went on a pub crawl, too! That means, in short, to meet up with a bunch of strangers with whom you go from a venue to another, all night, and at the end you realize three things: 1. you got to know the atmosphere in various parts of the city, 2. you're bff with the whole group and 3. you have just received an invitation from to crazy Canadians to their wedding! I'm telling you, it happens!
The German course I took, which was practically the main reason I went on my trip, was pretty much similar.
A salad of young intellectuals who come from all around the world, making life lasting friendships. From Ukrainians with Russians sharing the same ice cream, to heavy debates on national issues, always ending with the same conclusion: "We're all people." - Borders on a map just do not matter.
I would like everyone to take advantage of any opportunity to get to know as many nations as possible. It changes you.
If you've been in Berlin, I would love to know what impressions you left with. Please don't hesitate to join the conversation. It's the greatest pride to have an opinion!
Nu sunt mare fana a Graffitiului, nu ma intelege gresit, nu promovez vandalismul, dar.. - si exista un "dar"! - trebuie sa recunosc ca orasul acesta clocoteste cu talente. Iar arta lor e peste tot, la propriu.
Deviza acestora este sa revendice straziile. Sa aduca orasul inapoi oamenilor. Doar, cine a cerut sa fie reclame publictiare la tot pasul? Oamenii? Nu, nu. - ei au alte povesti de afisat.
Daca ajungeti prin Berlin, v-as sugera sa nu ratati ocazia sa faceti un astfel de tur. Chiar merita. La fel v-as recomanda sa vizitati si cluburile, nu stiu daca stiati, dar Berlinul e un fel de sala de maternitate pentru scena techno.
Noi am mers si la un pub crawl. Asta inseamna, mai pe scurt, sa te intalnesti cu o gramada de necunoscuti cu care sa mergi dintr-un local in altul, o noapte intreaga, iar la finalul ei realizezi trei chestii: 1. cunosti atmosfera din diverse colturi ale orasului, 2 ajungi bff cu toot grupul si 3 ai primit o invitatie la nunta unor canadieni nebuni.
Aproape la fel a fost si cursul meu de germana, practic, motivul oficial al vizitei mele.
O salata de tineri intelectuali, veniti din toata lumea, legand prietenii pentru o viata. De la ucrainiei cu rusi impartind aceeasi inghetata, la dezbateri grele pe teme nationale, care se incheiau mereu cu aceeasi concluzie: "Suntem oameni." - pentru ca granitele nu mai conteaza.
V-as dori tuturor sa profitati de orice mijloc de a cunoaste cat mai multe natii. Va schimba.
Daca ati fost prin Berlin, mi-ar face mare placere sa stiu ce impresii v-a lasat. Nu ezitati sa intrati in conversatie. E cea mai mare mandrie sa avem o parere!