Glitter, Champagne and this Manicure
EN:
Christmas just went by us. Did you have fun? Did you sing carols? - Did you indulge in all the holiday wonders?
Great!
I just opened my laptop again after the holiday's bustle and noticed that messages related to new manicure stumbled up. Oh-ow.
So I decided to come back with a little post now, quickly. I want to give you a good dose of inspiration for your next appointment before NYE. Are you ready?
We're off to LORE's!
RO:
Si uite asa a trecut si Craciunul. Te-ai distrat? Ai colindat? - Ai savurat?
Foarte bine!
Abia acum am ajuns sa deschid din nou laptopul dupa agitatia sarbatorilor si am observat ca s-au adunat mesajele legate de noua manichiura. Oh-ou.
Asa ca mi-am propus sa revin cu o mica postare acum, repejor. Vreau sa va ofer o doza buna de inspiratie pentru viitoarea voastra programare, inaintea serii dintre ani. Esti pregatita?
Mergem la LORE!
I arrive at Nail Art about a week before Christmas. Lore is waiting for me with her table packed with dozens of accessories. Her eyes flicker of excitement.
"What are we doing today?" I ask after the first 10 minutes of chatter.
"We invent something unique." she tells me proudly and shows me her latest acquisition. Chrome colors!
Ajung la Nail Art cam cu o saptamana inaintea Craciunului, Lore ma asteapta cu masa plina-plina de accesorii si privirea plina de entuziasm.
"Ce facem azi?" intreb dupa primele 10 minute de palavrageala.
"Inventam ceva unic." imi spune mandra si-mi arata paleta cu ultima achizitie. Culori cromate!
A coffee later and the salon filled with familiar faces. Ioana Chisiu is at the table to my right. I hear her asking for "Reeed, just red." Haha, so christmas-ish, I think, then comes Mada, from indiechase.
Oh, there's Andrei, too!
And he's holding a bouquet of flowers! - Lore and I have a deja vu! We're asking him where he hid our hot chocolate. My darling came here just like for the first time I visited the salon.
O cafea mai tarziu si s-a umplut salonul cu fete familiare. Ioana Chisiu e la masa din dreapta mea. O aud cerand "Rosuuu, neaparat!". Haha, ce craciunos, ma gandesc, apoi vine si Mada de la indiechase.
Hop, apare si Andrei!
Si are un buchet de flori in mana! - Eu cu Lore avem un deja vú si-l intrebam unde e ciocolata noastra calda? La fel a venit dragul de el, si intaia oara cand am viziat salonul.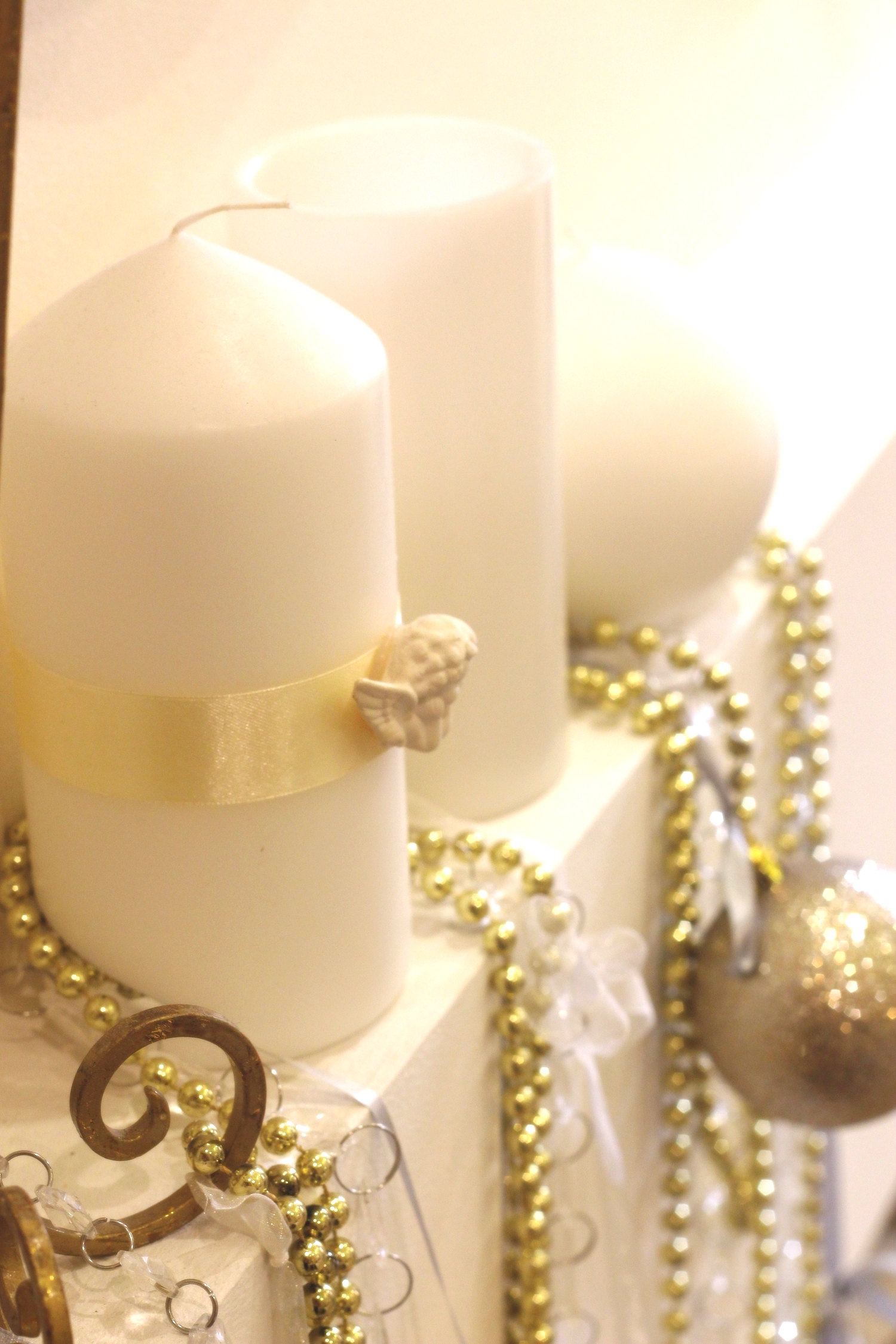 I promised I'll show you the decorations that stole the heart of all clients.
Yes, yes, yes. Every corner of the salon is ornamented with large glass bowls full of feathers and glitter. Candles, angels, pearls - white, gold and silver.
From the chandelier, globes on long ribbons gently fall down. Floating spheres of crystals or glitter or puff, looking like magic planets in an unknown galaxy.
This is Lore's universe.
Ti-am promis ca iti voi arata si decoratiunile care au furat ochii tuturor clientelor.
Da, da, da. E impodobit fiecare coltisor al salonului cu vase mari de sticla, pline de globuri, pene si sclipici. Lumanari, ingerasi, perle - alb, auriu si argintiu.
Din candelabru coboara globuri, pe panglici lungi si diafane. Plutesc sferele de cristale, puf sau glitter, ca planetele in galaxie.
Aici e universul care l-a creat Lore.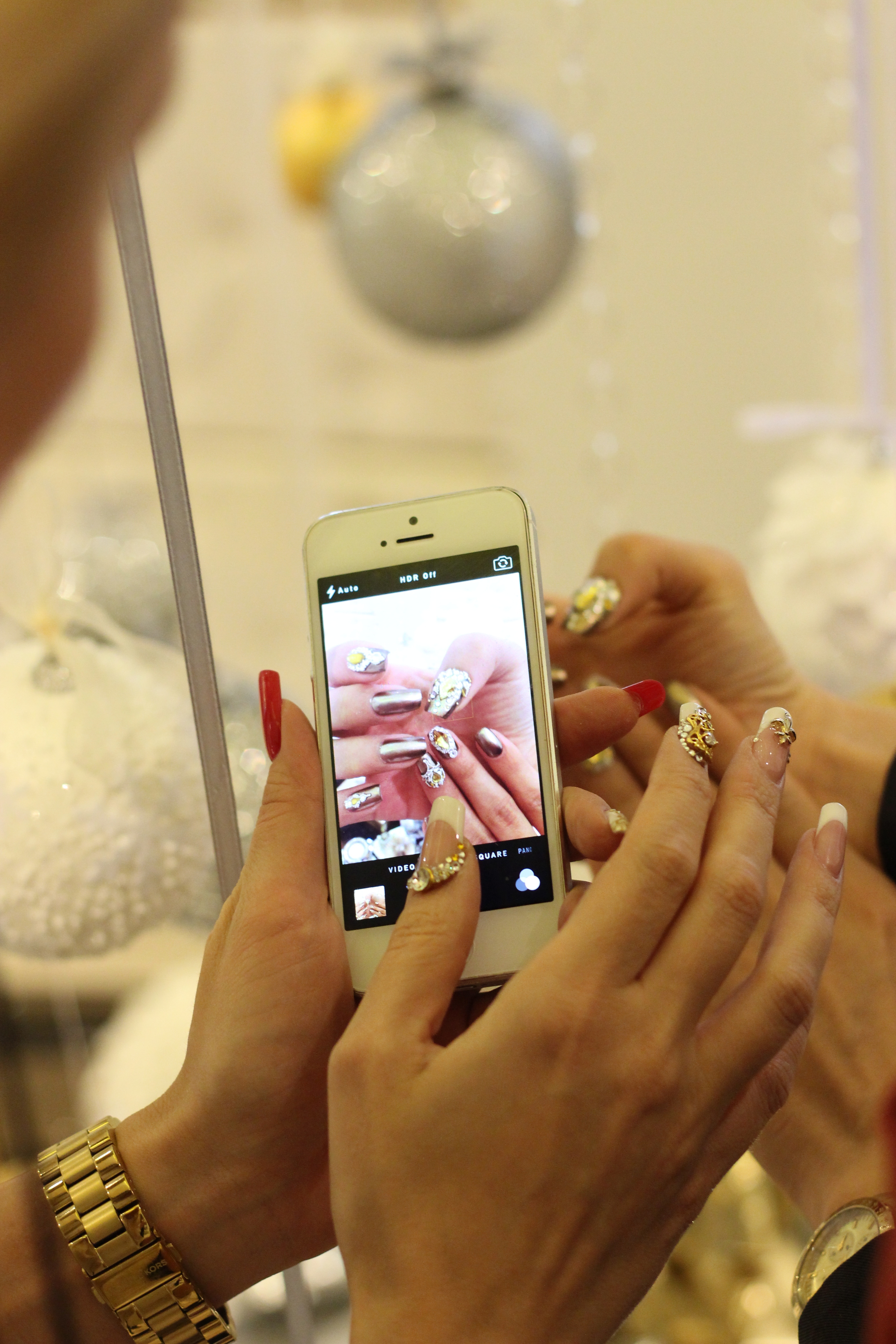 A picture and I'm gone!
I take my gift ( now, for the holidays, the salon is sharing gifts for nail care ) I give my sparkling hand to Andrei and we greet all the girls.
I'll say goodbye to you too now - I'm off to have some cake next to my Christmas tree.
Bon appetit, my darling!
Kisses.
O poza si-am plecat!
Imi iau cadoul ( salonul imparte accesorii de intretinere, acum, de sarbatori ) ii dau mana sclipitoare lui Andrei si le salutam pe fete.
Te salut si pe tine - ma duc inapoi langa brad, sa-mi mai iau o prajiturica.
Pofta buna si tie!
Pupici.